OSHA 10 /30 – General Industry Training Course
---
Description: 
The Occupational Safety and Health Administration (OSHA) Outreach Training Program for General Industry teaches workers about their rights, employer responsibilities, and how to file a complaint as well as how to identify, abate, avoid and prevent job related hazards.
Some jurisdictions, employers and unions require General Industry outreach training to work on job sites and to fulfill their safety training goals.
The program provides workers with information about OSHA and provides an overview of job hazards such as: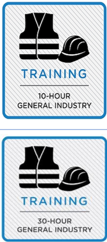 Working and walking surfaces
Hazard Communication
Hazardous Materials
Machine Guarding
Bloodborne Pathogens
Safety and Health Programs
Exit Routes, Emergency Action Plans, Fire Prevention Plans, and Fire Protection
Electrical
Personal Protective Equipment
Materials Handling
Intro to Industrial Hygiene
Ergonomics
Fall Protection
Permit Required Confined Space
Lock Out – Tag Out
Welding – Cutting & Brazing
Powered Industrial Vehicles
Outreach Instructors will come to your location and deliver this training course as a convenient way for workers to learn about job site safety.
Audience:
Industry Workers
Student Min / Max:
Minimum of three (3) students
Maximum of 40
Course Length:
Ten (10) Contact Hours
Thirty (30) Contact Hours
(Customized Schedule to meet your organization's needs)
Meets OSHA requirements
Don't see what you are looking for? Request a course topic and our instructors will design a course with your needs in mind. Contact us today, and tell us what you would like to see.