Vehicle Extrication:  "Don't Sweat the BIG Stuff" Course
---
Description: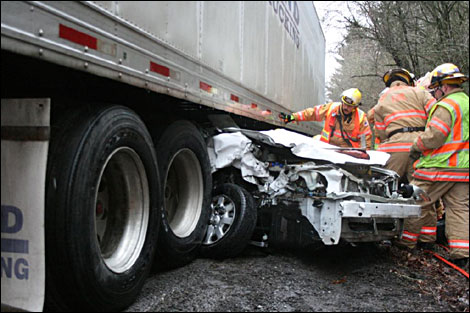 A one day course with classroom and hands on. The skills session covers dealing with accidents involving smaller vehicles and their entanglement with Big Rigs. It also covers patient removal from large trucks and large truck stabilization and lifting. (No cutting of the truck).
Or
Description:
A two day course with the first day same as above. The second day is another hands on session that will cover actual disentangling of victims from large trucks and moving metal to make room in large trucks. (Involves cutting the trucks for extrication).
Audience:
Advanced Level Firefighters & Officers with Extrication Experience
Course Length:
One or two days
Equipment for this course will be provided by the hosting department. Vehicles for this course shall be provided by the hosting department.
Don't see what you are looking for? Request a course topic and our instructors will design a course with your needs in mind. Contact us today, and tell us what you would like to see.