Description: 
An exciting opportunity to put to work your extrication and rope rescue skills in challenging real world scenarios. Offered a few times per year at regional training sites, or brought directly to your department, "Extrication from Above" is a joint training effort of Meridian Fire Training Solutions and T&R Rescue Solutions.
"Extrication from Above" will combine light vehicle rescue AND high angle rope rescue into one weekend session. Yes…cutting cars while hanging from a rope…not for the weak and certainly nothing you have trained for before. We WILL challenge even the best rescuers!!
Be ready for one of those incidents that "never happen"…join us for "Extrication from Above"
Audience:
Advanced Level Firefighters & Officers with Rope and Extrication Experience
Course Length:
Two (2) days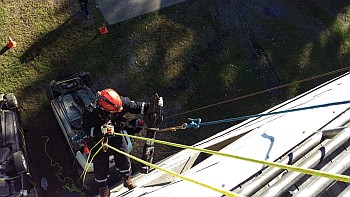 Don't see what you are looking for? Request a course topic and our instructors will design a course with your needs in mind. Contact us today, and tell us what you would like to see.