Stop the Bleed Course
---
Description: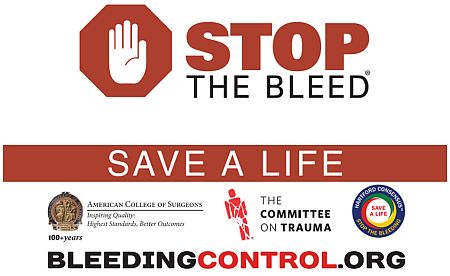 Motivated by the 2012 tragedy in Sandy Hook and multiple tragedies that have occurred in the ensuing years, what has become known as the Hartford Consensus was convened to bring together leaders from law enforcement, the federal government, and the medical community to improve survivability from man-made or natural mass casualty events. The resulting injuries from these events generally present with severe bleeding which, if left unattended, can result in death. The participants of the Hartford Consensus concluded that by providing first responders and civilian bystanders the skills and basic tools to stop uncontrolled bleeding in an emergency situation, lives would be saved. The first responder program has received very good response and is widely being used across the country. The next step is to focus on needs of civilian bystanders.
Students will get hands on practice controlling bleeding with pressure, quick clot and dressings and tourniquet application.
Audience:
All First Responders and Civilians
Course Length:
Three Hours
Don't see what you are looking for? Request a course topic and our instructors will design a course with your needs in mind. Contact us today, and tell us what you would like to see.