CPR / AED – Basic Life Support for Healthcare Provider Course
---
Description: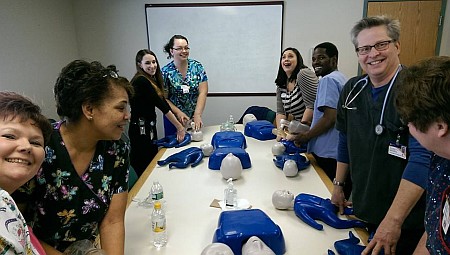 The BLS CPR/AED for Health Care Professionals Course teaches CPR skills for helping victims of all ages (including doing ventilation with a barrier device, a bag-mask device, and oxygen); use of an automated external defibrillator (AED); and relief of foreign-body airway obstruction (FBAO). It's intended for participants who provide health care to patients in a wide variety of settings including in-hospital and out-of-hospital. For certified or non-certified, licensed or non-licensed healthcare professionals.
Audience:
Healthcare providers such as physicians, nurses, paramedics, emergency medical technicians, respiratory therapists, physical and occupational therapists, physician's assistants, residents or fellows, or medical or nursing students in training, aides, medical or nursing assistants, police officers, and other allied health personnel.
Course Length:
Six to Eight Hours
Don't see what you are looking for? Request a course topic and our instructors will design a course with your needs in mind. Contact us today, and tell us what you would like to see.